Maribell Black Dance Shoes Full Lace Up
Maribell Black Dance Shoes Full Lace Up
Product Description
📏 Fitting

🎁 Returns

💛 Warranty

👠 Materials
Description
 COMFY FIT & FEEL IS GUARANTEED!
Shoes are True to size or return within 30 days no questions asked.
⭐️

 

 

⭐️

 

 

⭐️

 

 

⭐️

 

 

⭐️

"

They felt great from the first moment I wore them! I'm impressed with the quality, fit and comfort. Usually I have to wear my dance shoes around the house before they're comfortable dancing, but these fit and felt great from the beginning." - Kristel, GA
✅ Please order your dance shoes the same size as your everyday shoe size.
✅ The only exception to the above guide is if you have a wide fit. In this case, choose a half size larger than your everyday shoe size
✅ Please note that our dance shoes have a standard width (not narrow or wide)
Our sizing recommendations are suggestions for what size may fit best. As no two feet are the same, the final decision on the shoe size rests with the customer.
We are always happy to assist with sizing queries. So please email if you have questions about shoe sizes.
---
HOW TO MEASURE YOUR FOOT

 1. Place your foot on a sheet of paper. Mark a line over your longest toe and the heel of your foot.

TIP: It helps to hold the pencil straight around your foot

2. Use a ruler to measure the foot length distanced marked 
Reference our Size Chart against your measurements to know your size.
---
You have up to 30 days from your ship date to try on your dance shoes. If for any reason you don't like the fitting of your shoes. Return them for an exchange or refund. No questions asked. The Fit and feel of our dance shoes are guaranteed.

🎁 Returns
30 DAY RETURN POLICY. GET THE RIGHT FIT!
---
Shoes / Product must be in new unused condition to qualify as a return / exchange! 
✅  Please try your shoes on a clean surface.
✅  The definition of new, unaltered and unused condition is: without showing signs of wear or damage in any way.
✅  Shoes must not have, foot imprints, discoloring or dirt on the insole.
✅  Dirty outsoles are also unacceptable.
✅  Include your shoe bag with your return!
---
EXCHANGES
✅  You may return an item(s) for an exchange.
✅  Once your return is fully processed, we will issue you store credit in the form of a Yami®  E-Gift Card so that you can choose your exchange or use your E-Gift Card on a future purchase.
Yami
®

 

E-Gift Cards never expire, and are redeemable right away!
---
Refunds and exchanges are all contingent upon inspection of shoes/ product(s).



💛 Warranty
180 DAY PRODUCT GUARANTEE
✅ Damaged Parts:
If a shoelace, buckle or zipper pull is damaged. We will replace the damaged part. Making the shoe whole again.
✅ 

Minor Damage:
Suede peeling, missing crystal, an imperfection in appearance are all considered minor damage.
✅ 

Damaged Shoe:
 Heel and shoe strap breakage is considered damaged shoes. We will replace your damaged shoe free of charge. 
---
👠 Materials
Shoe Materials / Design
Open Toe - for liability and pointing
Adjustable Lace-Up.- for all foot Widths. Easily adjust to narrow and wide foot.
PU Synthetic Leather

 

(VEGAN)
Man-Made lining (VEGAN)
Hypoallergenic Micro-Fiber Inner Sole (VEGAN) - Reduces Odor and for easy cleaning
Micro-Fiber

 

Outer Sole  (VEGAN) Great for spinning on Wooden Floors

A Revolution in Design, Function & Comfort 

A revolution in design, function, and comfort. Yami Dance Shoes Cushioned insoles are the ONLY product in the Dance Shoe market created to PREVENT high heel foot pain while dancing.
The

 

Strategically Placed Cushion

 

under the forefoot (Balls Of Feet) ever-so-slightly adjusts the pitch and position of the foot in high heels to shift weight off the forefoot (Balls Of feet).
This shift in weight

 

prevents high heel pain:

Stops feet from slipping forward in the shoe
Improves ankle stability
Straightens posture
Significantly reduces strain on the knees, hips, legs, and back you feel while dancing.
We get it. You're frustrated.

Whether your a newbie, novice, social or pro dancer, You've tried every other Dance Shoe Brands out there that promises cushioned comfortable dance shoes.
And nothing has worked.
That's because they are not designed to relieve pressure off the forefoot / Balls of feet as needed.
Yami Dance Shoes is the only Dance Shoe Brand with Strategically built-in cushions under the forefoot /balls of your feet.
 No pain, slipping and fussing with dance shoes and insoles that simply don't work! Or live up to the promise of Comfy Dance Shoes!
FEEL THE YAMI DIFFERENCE
Yami Dance Shoes Built-In Cushions ever-so-slightly shifts weight off the forefoot/ balls of your feet, which results in ...
✅ Significantly less forefoot pressure and pain
✅ Improved body alignment
✅ Straighter posture
✅ More ankle stability
✅ Natural heel-to-toe gait
✅ Reduced leg and lower back fatigue after long hours of dancing
✅ WEAR YOUR DANCE HEELS 4x LONGER WITHOUT THE FOOT ACHES
Don't Sacrifice Fashion for Comfort, Have Both! Longer hours of dancing in your favorite dance heels without feeling or thinking about your feet. Except for how cute your shoes look.
Simply enjoying the long hours of dancing to your favorite song. 
You Deserve a Comfy Pair!
Customer Reviews
Write a Review
Ask a Question
Filter Reviews:
shoes
feet
dance shoes
dancing
Orlando
liking
heals
someone
wedding
salsa
09/12/2021
BlackSalsanista

United States
I recommend this product
Yummy and Fabulous
This is my second order from Yami. The shoes arrived in 3 days as promised. Fresh bag, fresh shoes made me feel proud to wear these. I enjoyed a 9.5 shoe size. I like the laces because it allowed me to adjust according to my true fit. I broke them in last night in Houston Palladium. It took an hour to break them in. With all dance shoes make sure to warm up and to stretch your foot before putting them in the shoes and before dancing to full songs. This shoe provides great ankle support, breathability, and is fabulous! I concentrate on purchasing streets shows because I can wear them for my house to the dance floor. Sometimes it's time consuming to switch to the suede sole shoes at the dance floor. I purchased these shoes to wear to a wedding where I knew I wanted to dance and still look stylish. You cannot beat black! @blacksalsanista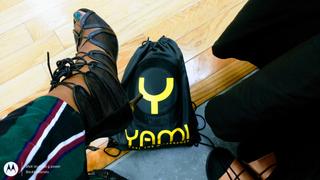 08/23/2021
Anonymous

United States
I recommend this product
Love!!
I can't remember the last time I put on a pair of dance shoes that felt perfectly made for my feet! I social danced 6+ hours in them my first night wearing them and my feet didn't hurt at all. Love that it has the outside sole as well, bonus points for that. The straps stay put exactly where you tie them. Have nothing bad to say about them. Manufactured very well.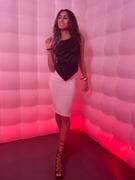 03/18/2021
Anonymous

United States
10/14/2021
Anonymous

United States
I recommend this product
Amazing Shoes!!
These are super sexy, externally comfortable, and all around 10/10 shoes! I wear them for hours of burlesque practice and can easily dance and go into a split easily because of the flexibility and quality of the shoe. Highly recommend!!
I recommend this product
I love my Street Soles
Yesterday I went to a wedding which had lots of dancing and I think I was the only woman not complaining of shoe pain! I initially bought the shoes for a trip to Spain. They were lightweight to pack in my luggage and I was able to wear them out dancing four nights in a row! I'd change while in my Uber but they are amazing in that they can also be worn outside. I love them!
07/12/2021
Ksenia L.

United States
I recommend this product
Dance shoes purchase
Recently purchased beautiful dance shoes from Yami shoes at Orlando salsa Congress. Great experience , very friendly and professional service. The shoes are amazing , very comfortable and good quality. Would love to go back for another pair.
07/06/2021
Anonymous

United States
I recommend this product
Maribell Black Dance Shoe
Very comfortable and stylish! It did take me a while to tighten the lace to my liking but I have slim feet. Wasn't too sure how the street sole performed but they worked great on the dance floor. Haven't worn them outside of the dance floor because I don't want to ruin them :) Like all the yami shoes I have tried, super comfortable!!
04/02/2021
Anonymous

United States
Beautiful Shoes!
I was worried that ordering a half-size down wouldn't fit, especially since I have wide feet, but they fit perfectly and the lace-up design means my feet can spread out and still look sexy ;) They are extremely comfortable and for someone who is new to dancing in heals they are surprisingly easy to move in! They make me feel like I've been doing it for years!
04/08/2021
Yami Dance Shoes
So glad you like the shoes and that they fit to your liking! The Maribels dance shoes are Super Sexy!! Cant wait to see you on the dance floor in your new heels. Yami