Lucila Noir
Product Description
📏 Sizing

🎁 Returns

💛 Warranty

👠 Materials
Description
 COMFY FIT & FEEL IS GUARANTEED!
Shoes are True to size or return within 30 days no questions asked.
⭐️⭐️⭐️⭐️⭐️"Like walking on clouds! I purchased my first pair of Yami dance show at the Bailacura festival. Tried them on and I was sold. The extra padding on the balls and heels make a huge difference and I wore the shoes all night"- Maria, NC
FITTING GUIDELINES

✅ Please order your dance shoes the same size as your everyday shoe size.
✅ The only exception to the above guide is if you have a wide fit. In this case, choose a half size larger than your everyday shoe size
✅ Please note that our dance shoes have a standard width (not narrow or wide)
Our sizing recommendations are suggestions for what size may fit best. As no two feet are the same, the final decision on the shoe size rests with the customer.
We are always happy to assist with sizing queries. So please email if you have questions about shoe sizes.
---
HOW TO MEASURE YOUR FOOT

 1. Place your foot on a sheet of paper. Mark a line over your longest toe and the heel of your foot.

TIP: It helps to hold the pencil straight around your foot

2. Use a ruler to measure the foot length distanced marked 
Reference our Size Chart against your measurements to know your size.
---
You have up to 30 days from your ship date to try on your dance shoes. If for any reason you don't like the fitting of your shoes. Return them for an exchange or refund. No questions asked. The Fit and feel of our dance shoes are guaranteed.

🎁 Returns
30 DAY RETURN POLICY. GET THE RIGHT FIT!
---
Shoes / Product must be in new unused condition to qualify as a return / exchange! 
✅  Please try your shoes on a clean surface.
✅  The definition of new, unaltered and unused condition is: without showing signs of wear or damage in any way.
✅  Shoes must not have, foot imprints, discoloring or dirt on the insole.
✅  Dirty outsoles are also unacceptable.
✅  Include your shoe bag with your return!
---
EXCHANGES
✅  You may return an item(s) for an exchange.
✅  Once your return is fully processed, we will issue you store credit in the form of a Yami®  E-Gift Card so that you can choose your exchange or use your E-Gift Card on a future purchase.
Yami
®

 

E-Gift Cards never expire, and are redeemable right away!
---
Refunds and exchanges are all contingent upon inspection of shoes/ product(s).



💛 Warranty
180 DAY PRODUCT GUARANTEE
✅ Damaged Parts:
If a shoelace, buckle or zipper pull is damaged. We will replace the damaged part. Making the shoe whole again.
✅ 

Minor Damage:
Suede peeling, missing crystal, an imperfection in appearance are all considered minor damage.
✅ 

Damaged Shoe:
 Heel and shoe strap breakage is considered damaged shoes. We will replace your damaged shoe free of charge. 
---
👠 Materials
Shoe Materials / Design
Open Toe
Adjustable Lace-Up. Great for all foot Widths.
PU Leather  Upper ( VEGAN)
Man-Made Inner Lining  (VEGAN)
Hypoallergenic Micro-Fiber Inner Sole (VEGAN)
Micro-Fiber

 

Outer Sole. (VEGAN) Great for spinning on Wooden Floors. 
A Revolution in Design, Function & Comfort 

A revolution in design, function, and comfort. Yami Dance Shoes Cushioned insoles are the ONLY product in the Dance Shoe market created to PREVENT high heel foot pain while dancing.
The

 

Strategically Placed Cushion

 

under the Forefoot (Balls Of Feet) ever-so-slightly adjusts the pitch and position of the foot in high heels to shift weight off the forefoot (Balls Of feet).
This shift in weight

 

prevents high heel pain:

Stops feet from slipping forward in the shoe
Improves ankle stability
Straightens posture
Significantly reduces strain on the knees, hips, legs, and back you feel while dancing.
We get it. You're frustrated.
Whether your a newbie, novice, social or pro dancer, You've tried every other Dance Shoe Brands out there that promises cushioned comfortable dance shoes.
And nothing has worked.
That's because they are not designed to relieve pressure off the forefoot / Balls of feet as needed.
Yami Dance Shoes is the only Dance Shoe Brand with Strategically built-in cushions under the forefoot /balls of your feet.
 No pain, slipping and fussing with dance shoes and insoles that simply don't work! Or live up to the promise of Comfy Dance Shoes!
FEEL THE YAMI DIFFERENCE
Yami Dance Shoes Built-In Cushions ever-so-slightly shifts weight off the forefoot/ balls of your feet, which results in ...
✅ Significantly less forefoot pressure and pain
✅ Improved body alignment
✅ Straighter posture
✅ More ankle stability
✅ Natural heel-to-toe gait
✅ Reduced leg and lower back fatigue after long hours of dancing
✅ WEAR YOUR DANCE HEELS 4x LONGER WITHOUT THE FOOT ACHES
Don't Sacrifice Fashion for Comfort, Have Both! Longer hours of dancing in your favorite dance heels without feeling or thinking about your feet. Except for how cute your shoes look.
Simply enjoying the long hours of dancing to your favorite song. 
You Deserve a Comfy Pair!
Customer Reviews
Write a Review
Ask a Question
Filter Reviews:
shoes
studs
size
loops
ankle
friend
feet
dance shoes
toe part
ones
02/15/2021
magali l.

United States
05/31/2020
Anonymous

United States
Overall a great shoe
I really enjoy the shoes so far, they are running a little small, but I'll stretch them out. I do have a wide foot, so the fact that the material is soft and has give to it, helps. The soles are soft and great points of cushion. I was hoping the surface of the bottom sole would be more slick to make it easier to turn. It's a beautiful shoe and I'll be ordering more from Yami, probably need to order a size 9 instead of 8,5, if they all have the same sizing.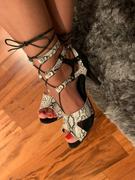 01/02/2022
Jen

United States
I recommend this product
OMG! Best shoes EVER
Girl, let me tell you! I have tried all kind of brands(cheap one and not so cheap ones) and this is the best shoes I've ever purchased! I have gotten so many compliments on this sexy shoes! I thought i would just die from the heel height(I was using on 2.5 inches) but this dang shoes are so forkin' light and felt like I wasn't wearing any! Best purchase ever. Don't hesitate friends, JUST BUY IT!
01/11/2022
Yami Dance Shoes
Hello Jen, Thank you for taking the time to leave a review. These shoes are super light and one of my favorites! Yami
06/09/2021
Anonymous

United States
I recommend this product
Need help
I have not being able to use my shoes because they didn't fit. I've been sending emails about a return but haven't got a response. Can't wait to try them.
06/11/2021
Yami Dance Shoes
Hello - please email us at info@yamishoes and either a team member or myself will be able to help you. Please provide your order number in the email. If you need to exchange or return please visit our return center here www.yamishoes.com/a/returns. Im looking forward to your email. Regards, Yami
02/04/2021
Anonymous

United States
Very comfortable!
These shoes are very comfortable and look amazing! They would be 5 stars if it wasn't for the construction of the straps on the sides. The studs on the sides lock the straps in place, instead of looping and sliding like they do around the string. That makes it impossible for me to get these tight around the heel. I love lace up shoes because you have the ability to tighten them to your foot shape/size but the straps just end up bulging around the heel leaving it loose.
01/31/2021
Jennifer B.

United States
Very comfy
I purchased the same size I usually do for dance shoes (1 size down) and I was concerned that the toe part would be too narrow for my feet, but it wasn't. They're a little tight, but I'm sure they'll stretch with use. The issue with this shoe design are the sides where the studs connect all the little straps. Both my friend and I have gaps here and can't tighten the shoes around the ankle enough to feel like they're completely secure. If the studs were connected to their own straps to create loops through which the other ones could move and adjust, this would allow for a more personalized and secure shoe fit. I haven't danced in these yet, but I have worn them around the house. If they don't seem secure enough, I may take them to a cobbler to see if this change would be possible. I love the way they look, the comfort of the sole, and the fact that they lace.
01/25/2021
Anonymous

United States
perfect dancing shoes
this shoes are amazing!! good quality comfortable and they look good!
02/11/2021
Yami Dance Shoes
Thank you for taking the time to leave a review. I'm so happy you like the shoes. Thanks for sharing! Yami
11/11/2020
Anonymous

United States
Cute and Comfy
Yami shoes never disappoints!! This is a cute, stylish and comfy shoe. I'm not a fan of strap ups but these are very cute and I am glad I got them. There's also a mesh piece by the pinky toe that keeps it in. LOL often times that pinky toe like to slip out . But not with this show!
11/12/2020
Yami Dance Shoes
Hi, Thank you for taking the time to write this great review. I'm glad the shoes fit you well. I know the feeling of an escaping pinky Toe. lol It's Not fun. The mesh on this shoe is really helpful. I was just wondering If you like shoes, the fit, and the feel. Why did you give us a 2-star review? What can we do better? Regards, Yami
05/26/2020
Anonymous

United States
Super comfy
I can wear these shoes all day long !
Love these shoes!
I love the versatility and comfort will buy another pair for sure!!
04/24/2020
Yami Dance Shoes
Thanks, Nakoma. This is my new personal favorite dance shoe style. Its so sexy. Yami
04/20/2020
Carrie

United States
Very Nice but lacking in the details
We are very comfortable! I wore the most of the first day I got them. The construction of the shoe itself is very good. They lack in the details. One of the shoes was laced incorrectly so the strap flipped over and dug into the side of my foot. To fix it we had to cut one end of the lace off to get the detail off and rethread them back through correctly and then reattach the detail. The other shoes lace is twice as long as the other and we will need to shorten that lace the same way we fixed the incorrectly laced shoe.
04/24/2020
Yami Dance Shoes
Carrie, Thanks for the feedback. I will make sure to discuss with my team about the shoelaces being different sizes. Your input is very important to us. Regards, Yami