BLACK SATIN
Product Description
📏 Sizing

🎁 Returns

💛 Warranty

👠 Materials
Description
 COMFY FIT & FEEL IS GUARANTEED!
Shoes are True to size or return within 30 days no questions asked.
⭐️ ⭐️ ⭐️ ⭐️ ⭐️"The padding is the life saver! At first I thought it will affect my fit but that is a true life saver! It tremendously helped absorbing pressure I put on the balls of my feet! - Weng

FITTING GUIDELINES

✅ Please order your dance shoes the same size as your everyday shoe size.
✅ The only exception to the above guide is if you have a wide fit. In this case, choose a half size larger than your everyday shoe size
✅ Please note that our dance shoes have a standard width (not narrow or wide)
Our sizing recommendations are suggestions for what size may fit best. As no two feet are the same, the final decision on the shoe size rests with the customer.
We are always happy to assist with sizing queries. So please email if you have questions about shoe sizes.
---
HOW TO MEASURE YOUR FOOT

 1. Place your foot on a sheet of paper. Mark a line over your longest toe and the heel of your foot.

TIP: It helps to hold the pencil straight around your foot

2. Use a ruler to measure the foot length distanced marked 
Reference our Size Chart against your measurements to know your size.
---
You have up to 30 days from your ship date to try on your dance shoes. If for any reason you don't like the fitting of your shoes. Return them for an exchange or refund. No questions asked. The Fit and feel of our dance shoes are guaranteed.

🎁 Returns
30 DAY RETURN POLICY. GET THE RIGHT FIT!
---
Shoes / Product must be in new unused condition to qualify as a return / exchange! 
✅  Please try your shoes on a clean surface.
✅  The definition of new, unaltered and unused condition is: without showing signs of wear or damage in any way.
✅  Shoes must not have, foot imprints, discoloring or dirt on the insole.
✅  Dirty outsoles are also unacceptable.
✅  Include your shoe bag with your return!
---
EXCHANGES
✅  You may return an item(s) for an exchange.
✅  Once your return is fully processed, we will issue you store credit in the form of a Yami®  E-Gift Card so that you can choose your exchange or use your E-Gift Card on a future purchase.
Yami
®

 

E-Gift Cards never expire, and are redeemable right away!
---
Refunds and exchanges are all contingent upon inspection of shoes/ product(s).



💛 Warranty
180 DAY PRODUCT GUARANTEE
✅ Damaged Parts:
If a shoelace, buckle or zipper pull is damaged. We will replace the damaged part. Making the shoe whole again.
✅ 

Minor Damage:
Suede peeling, missing crystal, an imperfection in appearance are all considered minor damage.
✅ 

Damaged Shoe:
 Heel and shoe strap breakage is considered damaged shoes. We will replace your damaged shoe free of charge. 
---
👠 Materials
Shoe Materials / Design
Open Toe - for liability and pointing
Adjustable Lace-Up.- for all foot Widths. Easily adjust to narrow and wide foot.
Satin Upper

 

(VEGAN)
Man-Made lining (VEGAN)
Hypoallergenic Micro-Fiber Inner Sole (VEGAN) - Reduces Odor and for easy cleaning
Micro-Fiber

 

Outer Sole  (VEGAN) Great for spinning on Wooden Floors

A Revolution in Design, Function & Comfort 

A revolution in design, function, and comfort. Yami Dance Shoes Cushioned insoles are the ONLY product in the Dance Shoe market created to PREVENT high heel foot pain while dancing.
The

 

Strategically Placed Cushion

 

under the forefoot (Balls Of Feet) ever-so-slightly adjusts the pitch and position of the foot in high heels to shift weight off the forefoot (Balls Of feet).
This shift in weight

 

prevents high heel pain:

Stops feet from slipping forward in the shoe
Improves ankle stability
Straightens posture
Significantly reduces strain on the knees, hips, legs, and back you feel while dancing.
We get it. You're frustrated.

Whether your a newbie, novice, social or pro dancer, You've tried every other Dance Shoe Brands out there that promises cushioned comfortable dance shoes.
And nothing has worked.
That's because they are not designed to relieve pressure off the forefoot / Balls of feet as needed.
Yami Dance Shoes is the only Dance Shoe Brand with Strategically built-in cushions under the forefoot /balls of your feet.
 No pain, slipping and fussing with dance shoes and insoles that simply don't work! Or live up to the promise of Comfy Dance Shoes!
FEEL THE YAMI DIFFERENCE
Yami Dance Shoes Built-In Cushions ever-so-slightly shifts weight off the forefoot/ balls of your feet, which results in ...
✅ Significantly less forefoot pressure and pain
✅ Improved body alignment
✅ Straighter posture
✅ More ankle stability
✅ Natural heel-to-toe gait
✅ Reduced leg and lower back fatigue after long hours of dancing
✅ WEAR YOUR DANCE HEELS 4x LONGER WITHOUT THE FOOT ACHES
Don't Sacrifice Fashion for Comfort, Have Both! Longer hours of dancing in your favorite dance heels without feeling or thinking about your feet. Except for how cute your shoes look.
Simply enjoying the long hours of dancing to your favorite song. 
You Deserve a Comfy Pair!
Customer Reviews
Write a Review
Ask a Question
Filter Reviews:
area
penny
bonus
comfort level
Yami
cushion
feet
shoe
07/12/2021
Anonymous

United States
06/11/2020
Tova G.

United States
The Best Dance Shoes I Own!
The shoes fit so perfectly! Having a wide foot, it is always hard to find the perfect heel. Being that these are my very first professional dancing heels, I am beyond ecstatic about their quality and ease! Their weightlessness and cushions allow me to dance without having painful feet! I'm definitely going to buy more in the near future!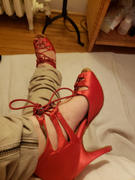 06/11/2020
Yami Dance Shoes
Thank you, Tova. They look great on you!
05/28/2020
Carrie T.

United States
Bad style choice
These rub & pinch my toes, scratch & dig into my heel & ankle and are very unstable when walking in them. My feet roll laterally and Tightening the laces only makes them more uncomfortable. I was only able to stand wearing these for about 10 minutes. The first pair I bought from here are amazing, I wore them for 6 hours straight with little to no discomfort, right out of the box! This design is not a good one. These were pre-orders so I can't return them. Just make sure you don't pre-order.
05/30/2020
Yami Dance Shoes
Hello Carrie, Sorry to hear that the dance shoes aren't fitting to your liking. The full lace dance shoes are one of our most popular due to the adjustability of the width. Although you did custom order these dance shoes in a 4in Stiletto heel. You can still exchange them if they have not been worn to dance. You can read are full return Policy here https://yamishoes.com/pages/returns-exchanges-1. If the shoes fit within the criteria you can start your exchange process here in our return center. www.yamishoes.com/a/returns. I hope this helps and I cant wait to have you fitted in a pair of dance shoes. Yami
04/19/2020
Anonymous

United States
Very cute and comfy!
I ended up having to return the shoes to get a slightly bigger size but I really love the look and feel. Most ladies' dance shoes have no support for the sole of the foot and are really uncomfortable to wear for an evening of dancing. These feel great and look good too!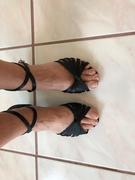 04/24/2020
Yami Dance Shoes
Thanks for the review. They look really cute on your feet. Yami
07/04/2021
Monique

United States
Just as expected!
I wear a 9, ordered a 9 and they're PERFECT! The only reason I'm not giving 5 stars is because I haven't worn them to class yet. They seem comfortable when just worn around the house, trying them on. They look just as advertised. So far, I am pleased!!
01/19/2021
Taylor T.

United States
Black Satin Shoe Review
These shoes are very comfortable! I've been practicing in them for about 3-5 hours in the past couple of weeks and my feet do not hurt or feel fatigued, which is very surprising. I think this is largely due to the extra cushion that Yami had towards the toe/sole area. Also, being able to tighten the shoe to your desired comfort level is another bonus. Definitely pleased and worth every penny.
01/11/2021
Anonymous

United States
Just got my first pair!
They are too big even though i sized down. Will need to return. From trying the ones i currently have on they felt very comfortable. Hopefully another half size down will do it.
11/27/2020
Karin R.

United States
Comfortable, balanced, great shoe
I've been trying different shoes ever since I started dancing salsa. The problem has been my age and previous injuries. (I typically stand all day as well, and wear orthopedics.) I've had issues with my hips, knees, and feet when I've danced in heels. I've been practicing in these shoes for an hour or more every day for about a month, and haven't had any issues with my joints. The extra padding on the ball of the foot is particularly helpful for my feet. Due to covid, I don't know how my feet would feel after dancing for hours at a social, but so far these have been the best salsa heel for my feet. Comfortable right out of the box!
11/01/2020
Anonymous

United States
Don't bother!
Terrible!!!! Never returned my money even after I shipped back shoes! And I paid 15$ just to return!
11/02/2020
Yami Dance Shoes
Hello- Thanks for trying our shoes. I'm sorry to hear that you had a bad experience with our item. Could you please send me your return ID or Order number so that I can check into the status of your return? All refunds are processed once the shoes are returned and inspected. You can review our return policy here (https://yamishoes.com/pages/returns-exchanges-1) for process and procedures. If you have any further concerns or questions please don't hesitate to call us at (470)635-1202 or you can email us at info@yamishoes.com We are here to answer any questions you may have. Regards, Yami Team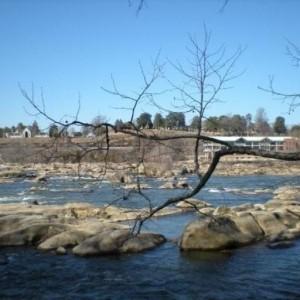 EA
10/04/2020
Emily A.

United States
Great tango practice shoe; narrow friendly w inserts
I bought these for Zoom tango classes, as they are more affordable (and comfortable) than traditional tango shows. They pivoted nicely after taping the soles. To fit my narrow feet, I went down a full street size, added silicone arch supports, added 2 more strap holes, and put another pad in the ball of the foot. They fit like a dream after these minor adjustments.