Talisa
No Fuss 30 Days Easy Returns
Regular price
$221.00 CAD
Regular price
Sale price
$221.00 CAD
Unit price
per
Sale
SOLD OUT
✖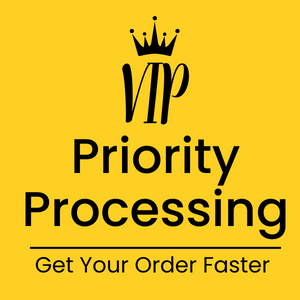 Priority Processing
$10.00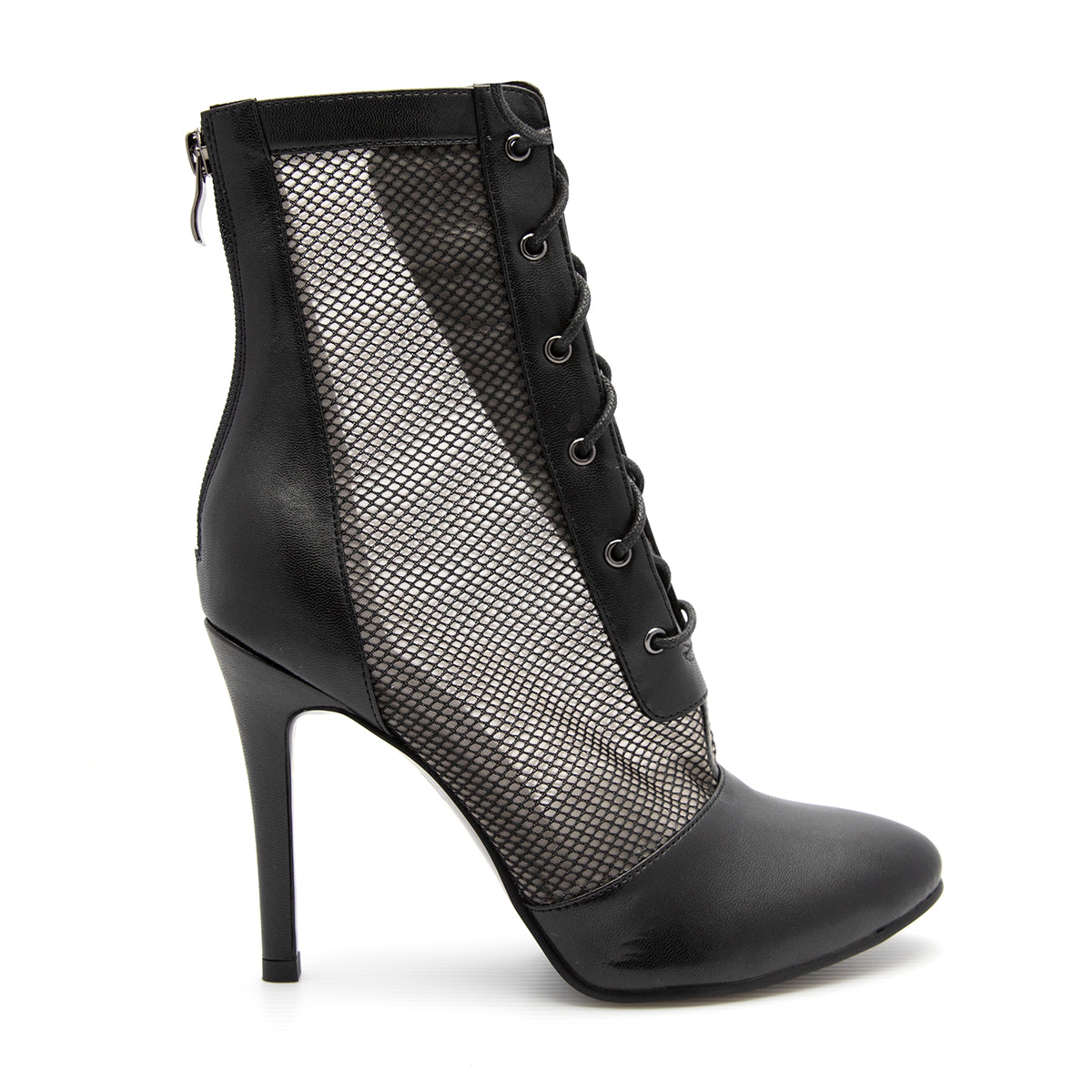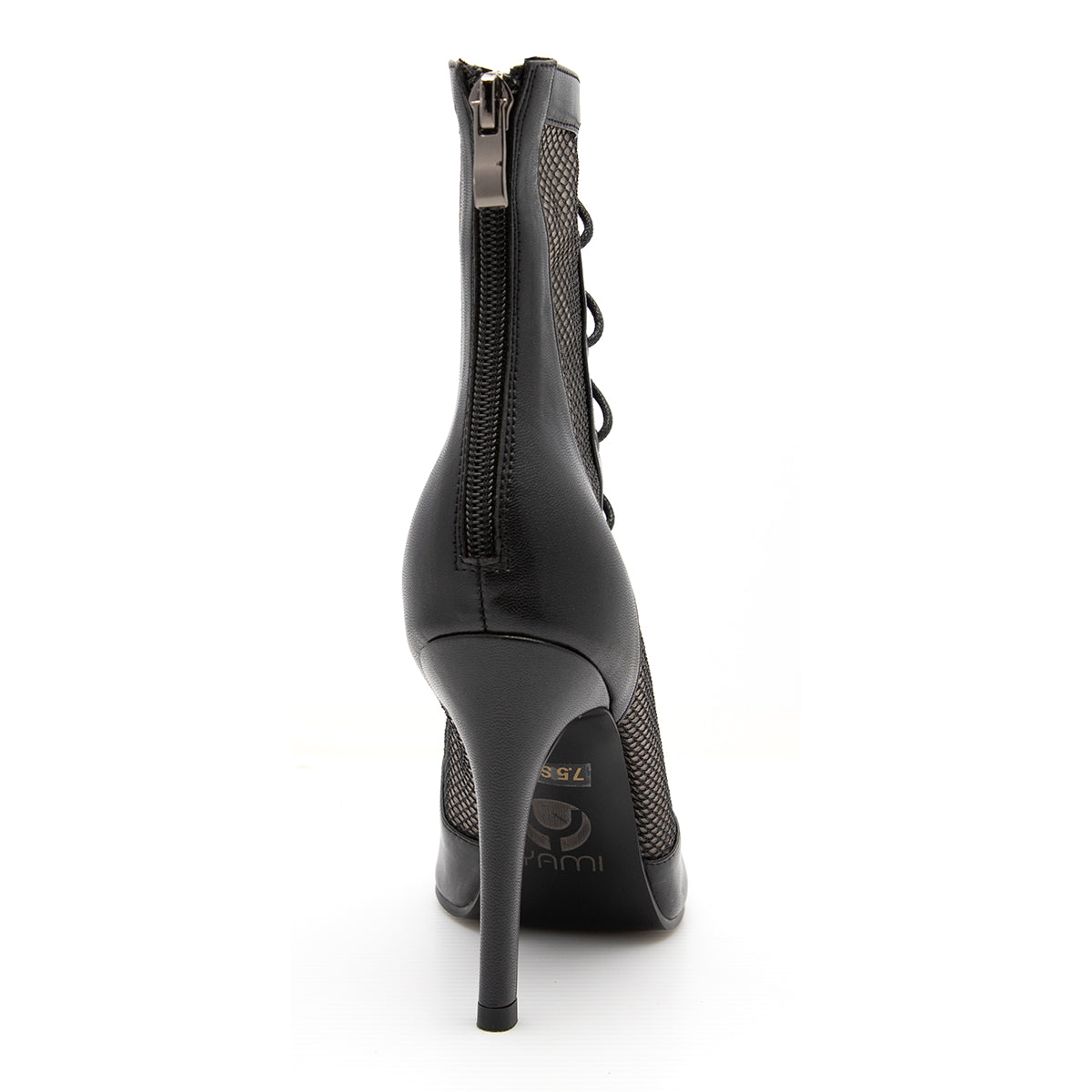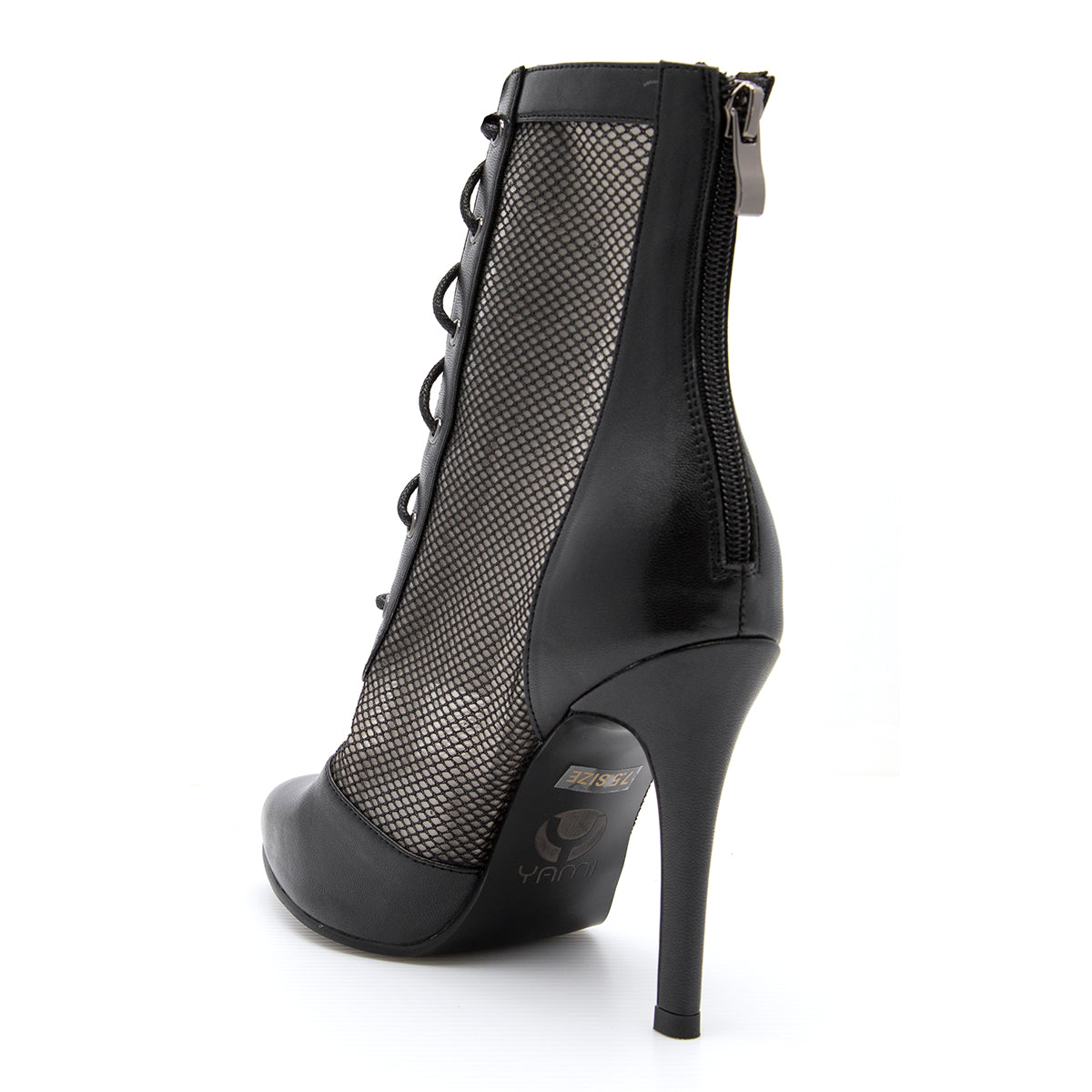 Easy, No Fuss Returns
Easy, No Fuss Returns!
You have up to 30 days from your ship date to try on your dance shoes. If for any reason you don't like your shoes. Return them for a exchange or refund. No questions asked. The Fit and feel of our  dance shoes is guaranteed.
---
Your Satisfaction is important to us.
Description

💃 Step with Grace, Stride with Confidence: Introducing Talisa! 💃

Elegance meets everyday practicality with Talisa, the dance bootie that's not just for the dance floor. Whether you're mastering a heels class routine or making a statement on city streets, Talisa is your perfect companion.

Boasting a breathable mesh design, these booties ensure your feet stay fresh and comfortable, no matter how intense the dance or long the walk. The closed-toe front offers a touch of sophistication, while the street sole promises versatility for every surface, from smooth dance floors to urban sidewalks.

But what truly sets Talisa apart? Our signature Yami padded insoles. Every step, twirl, or strut is cushioned, making every moment a pleasure. Dance with abandon, walk with ease; Talisa has got you covered.

The choice between 3.5-inch and 4-inch heels lets you decide the height of your elegance. And with the ultra-flexible design, these booties move as gracefully as you do, ensuring you're always in sync with the rhythm of life.

Talisa isn't just a shoe; it's a lifestyle. A statement that you're ready for anything - from a spontaneous dance to a planned city outing.

Features & Benefits:

Heel Choices: Opt for a 3.5-inch or 4-inch heel, depending on your style and comfort preference.
Breathable Design: The mesh material ensures your feet breathe, keeping them fresh and comfortable.
Versatile Street Sole: Dance or walk on multiple smooth surfaces with confidence.
Signature Yami Insoles: Enjoy unparalleled comfort with our specialized padding, cushioning every step.
Ultra-Flexible: Designed for dancing, these booties move seamlessly with your feet.
Elegant Closed-Toe: A sophisticated touch suitable for various occasions and dance styles.
Durable & Stylish: Crafted with top-quality materials, ensuring longevity and a chic look.

Specifications:

Heel Height: Available in 3.5-inch and 4-inch options
Outer Material: Breathable Mesh with Closed-Toe Design
Inner Material: Signature Yami Padded Insoles
Sole: Versatile Street Sole (Rubber)
Design: Above-the-ankle bootie

Talisa - Where everyday elegance meets dance floor flair.
Benefits

• Extra padding for ultimate relief: These dance shoes have added cushioning under the balls of your feet and heels - it's a total game changer!


• Super-stable heels: With reinforced heel support, your leg muscles can relax, reducing soreness and fatigue (especially in your calves)!


• Anti-scratch heel magic: Say goodbye to ugly scratches and worn-out heels, thanks to the innovative anti-scratch material that keeps them looking fabulous!


• Sweat-free microfiber insoles: Ditch the stinky suede and embrace moisture-resistant microfiber that keeps your dance shoes fresh and odor-free!


• Fast shipping: All orders are shipped within 48 hours, so you'll be dancing in comfort and style in no time!
Shipping & Returns

Returns and Exchanges

At Yami Shoes, we are committed to providing the best shopping experience possible, which is why we offer our customers an easy and hassle-free returns and exchanges process. Our RETURN CENTER ensures that you can easily initiate a return or exchange request for your domestic orders within 30 days from the SHIP DATE.

We offer free shipping and returns for the first round of returns on all USA domestic orders. This means that you don't have to worry about any additional costs for your first return or exchange.

For international orders, customers are responsible for shipping costs. However, we still offer easy returns and exchanges through our RETURN CENTER.

If you need to return or exchange your order, simply visit our RETURN CENTER to initiate the process. Our team will guide you through the process and ensure that your return or exchange is processed as quickly as possible. Please note that any additional returns or shipping costs beyond the first round will be the responsibility of the customer.

To qualify as a return or exchange, shoes must be in new, unused condition:

✅ Try your shoes on a clean surface.
✅ Shoes must not have foot imprints, discoloring, or dirt on the insole.
✅ Dirty outsoles are unacceptable.
✅ Include your shoe bag with your return!

For more information, visit our Return Policy page.

Shipping Policy:

We offer free shipping and returns for the first round of all USA domestic orders using USPS Priority Mail. Please note that any additional shipping and return costs beyond the first round will be the responsibility of the customer.

Shipping Rates:

To determine the estimated shipping cost for any item to your desired address, simply select the item you wish to purchase and proceed to the shopping cart page. The estimated shipping cost will be displayed, along with a map showing your location and the option to select a different location.

Please note that you are not obligated to make the purchase or provide payment information if you choose not to proceed to checkout.

If you decide to use a shipping method other than the default USPS Priority Shipping option, any additional shipping costs will be the responsibility of the customer.

At Yami Shoes, we strive to provide our customers with a seamless shopping experience, and our shipping policies are designed to make your shopping experience as hassle-free as possible.

Shipping Carrier:

By default, Yami Shoes ships orders by Priority Mail® through the USPS. For expedited shipping, Express Mail is also available at the customer's expense.

Processing Times:

Yami Shoes processes online orders 5 days a week with some exceptions such as holidays. We typically process and package online orders placed before 3:00 pm EST on the same day an order is placed. Online orders placed after 3:00 PM EST are processed the following business day. Orders with a large number of items may take 2 or more additional days to process. While we process orders 5 days a week, USPS picks up shipments from our warehouse Monday through Saturday, with some exceptions including holidays.

Yami Shoes does not assume any responsibility for any delays with shipping an order or the manner it was delivered after it is transferred to the possession of USPS or any other carrier.
Versatile: Indoor & Outdoor Use
Concrete Floors

Rubber soles offer a non-slip surface that still allows for easy spinning and sliding movements.

Hard Wood Floors

Rubber soles offer great grip and traction on hardwood floors, ensuring stability and enabling smooth spins.

Carpet Floors

Carpeted surfaces create friction, hindering foot movements. Rubber soles ensure smooth glides for easy spins and pivots.

Tile Floors

Tiles can be slippery, particularly when wet. Rubber soles provide slip-resistance, ensuring safe and easy spins on tile surfaces.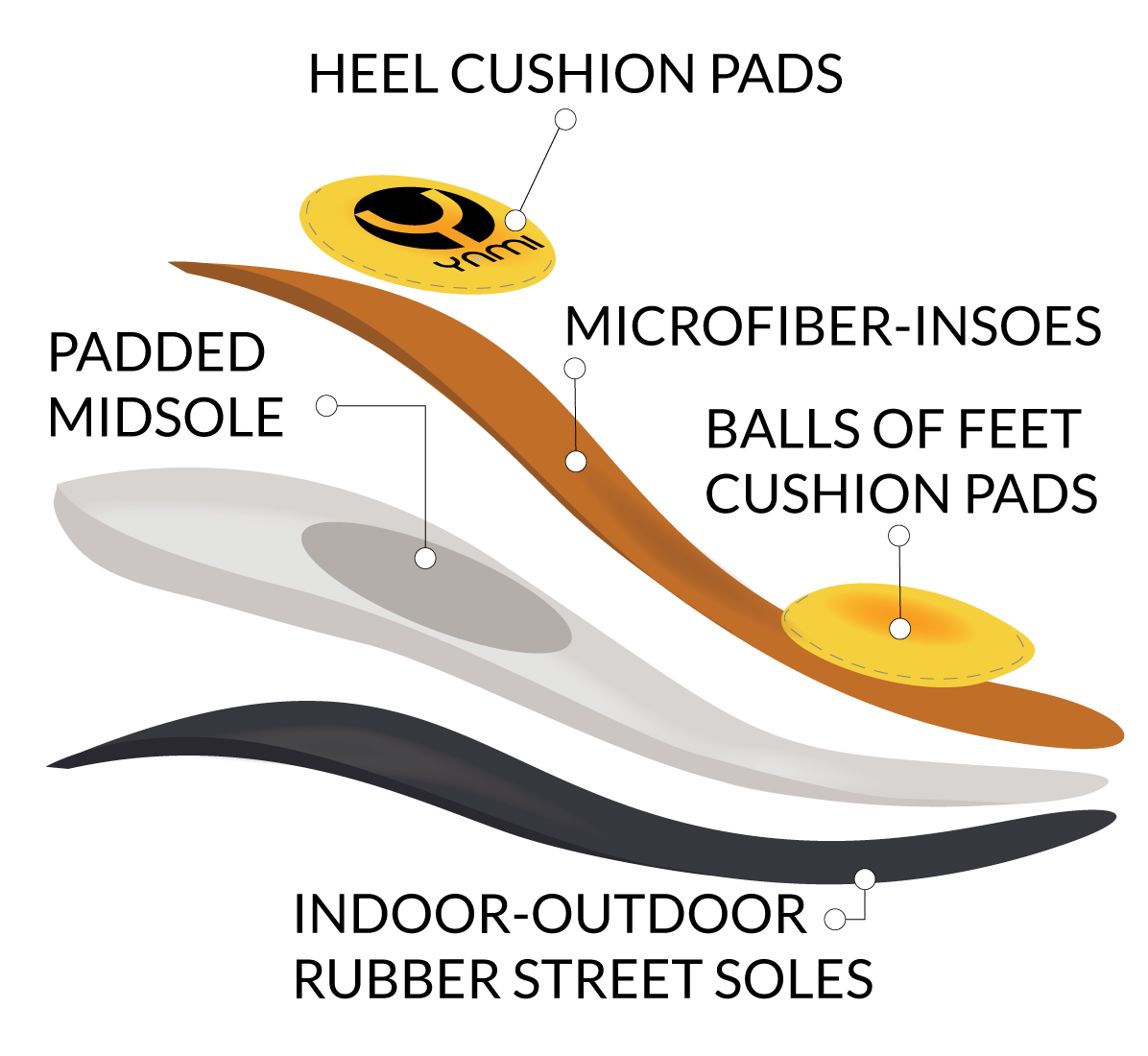 Maximum Comfort
Say goodbye to sore feet, ladies!
Our dance shoes feature added padding that's like comfortable pillows, not just for the balls of your feet but also your heels!
This means you can dance for hours on end without any discomfort or pain!
The extra cushioning provides optimal support and shock absorption, thus reducing the impact on your joints and muscles.
With every step, you'll feel like you're walking on clouds, making your dancing experience pure bliss!
Find Your Correct Shoe Size. How To Measure Your Feet
📏Size Chart
Place a piece of paper against a wall and ensure that it is flush against the wall.

Stand on the piece of paper with your heel against the wall.

Draw a straight line on the paper at the end of your longest toe, ensuring that the line is perpendicular to the edge of the paper. This will provide an accurate measurement of the length of your foot.

Repeat for the other foot and choose the longest measurement!

Compare your measurements to our size chart guide to determine the best size for your foot.
Pack N' Ship in 48 hours

Hate waiting for your orders? Me too. All shoe orders are packed & shipped within 48 hrs! Using priority USPS shipping!

Comfy Fit and Feel

Only dance shoes in the world that contain extra padding in the areas you need the most relief – under the balls of the feet and heels.

Free Shipping and Exchanges

Try on your new shoes and confirm Fit, Feel and Sizing. If they Don't fit send them back and exchange for a size that fits. Free of Charge!