Lolita
Product Description
📏 Sizing

🎁 Returns

💛 Warranty
Description
 COMFY FIT & FEEL IS GUARANTEED!
Shoes are True to size or return within 30 days no questions asked.
⭐️

 

 

⭐️

 

 

⭐️

 

 

⭐️

 

 

⭐️

"

They felt great from the first moment I wore them! I'm impressed with the quality, fit and comfort. Usually I have to wear my dance shoes around the house before they're comfortable dancing, but these fit and felt great from the beginning." - Kristel, GA
✅ Please order your dance shoes the same size as your everyday shoe size.
✅ The only exception to the above guide is if you have a wide fit. In this case, choose a half size larger than your everyday shoe size
✅ Please note that our dance shoes have a standard width (not narrow or wide)
Our sizing recommendations are suggestions for what size may fit best. As no two feet are the same, the final decision on the shoe size rests with the customer.
We are always happy to assist with sizing queries. So please email if you have questions about shoe sizes.
---
HOW TO MEASURE YOUR FOOT

 1. Place your foot on a sheet of paper. Mark a line over your longest toe and the heel of your foot.

TIP: It helps to hold the pencil straight around your foot

2. Use a ruler to measure the foot length distanced marked 
Reference our Size Chart against your measurements to know your size.
---
You have up to 30 days from your ship date to try on your dance shoes. If for any reason you don't like the fitting of your shoes. Return them for an exchange or refund. No questions asked. The Fit and feel of our dance shoes are guaranteed.

🎁 Returns
30 DAY RETURN POLICY. GET THE RIGHT FIT!
---
Shoes / Product must be in new unused condition to qualify as a return / exchange! 
✅  Please try your shoes on a clean surface.
✅  The definition of new, unaltered and unused condition is: without showing signs of wear or damage in any way.
✅  Shoes must not have, foot imprints, discoloring or dirt on the insole.
✅  Dirty outsoles are also unacceptable.
✅  Include your shoe bag with your return!
---
EXCHANGES
✅  You may return an item(s) for an exchange.
✅  Once your return is fully processed, we will issue you store credit in the form of a Yami®  E-Gift Card so that you can choose your exchange or use your E-Gift Card on a future purchase.
Yami
®

 

E-Gift Cards never expire, and are redeemable right away!
---
Refunds and exchanges are all contingent upon inspection of shoes/ product(s).



💛 Warranty
180 DAY PRODUCT GUARANTEE
✅ Damaged Parts:
If a shoelace, buckle or zipper pull is damaged. We will replace the damaged part. Making the shoe whole again.
✅ 

Minor Damage:
Suede peeling, missing crystal, an imperfection in appearance are all considered minor damage.
✅ 

Damaged Shoe:
 Heel and shoe strap breakage is considered damaged shoes. We will replace your damaged shoe free of charge. 
---
Customer Reviews
Write a Review
Ask a Question
I've been eyeing Yami shoes for a while. I saw that from another review that this was a good pair for ankle support, and I was undecided on purchasing the Geralyz Sting or Lolita. Not only are these shoes extremely comfortable but they give me a lot of ankle support. Now I can last long days and night without switching to dance flats! I also requested few extra holes for extra support by email so I didn't have to take them to a shoe maker. Outstanding customer service! The Geralyz Sting is next on my list!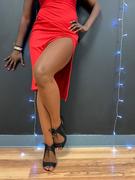 05/28/2021
Anonymous

United States
I recommend this product
Very comfy and stylish
I absolutely recommend these heels. Stylish and comfortable at the same time.
Love the shoes I really like the shoes, but they run a bit smaller than expected. And since I can't return them. I'm stuck with tight dance shoes. I'm hoping they stretch out the more I use them.
Fabulous ! Always excited when I receive a new pair of Yami shoes ! I tend to like lace up shoes as I need a lot of ankle support and have narrow ankles. These are perfect ! Not only are the extremely comfortable but they give me a lot of ankle support and are super cute. I was a little concerned that they might not lace up tight enough so the owner suggested adding a few extra holes and did that for me before they were shipped to me so I didn't have to take them to a shoe maker. Outstanding customer service ! Any questions I have someone always gets back to me promptly and in this case went above and beyond to address all my concerns. You don't find this type of customer service anymore as most people you can't get on the phone and have to wait a day or so to get an email back. I will be a long time customer for sure! Love Lolita
So many compliments! Not only are these super comfortable, very supported for my ankle. I have worn them several times and I always get compliments on how pretty they are. I am so glad I purchased these beautiful shoes!
Perfect...for my friend I initially got these shoes for myself and I was incredibly excited to get them. They came fairly quickly. I recently had bunion and ankle surgery so I was hoping these shoes would be different from all other dance shoes out there and be wide enough at the toe. Well, I was let down. I admit, I have wide feet so I don't blame the shoes. I ended up giving them to a friend who wears the same size. They fit her perfectly and they look gorgeous on her! She absolutely loves them. I bought a lace up style after all of this so I'm hoping those work out better for me.