CElIA SILVER
$150.00
$89.99
You Save:

$60.01 USD
CElIA SILVER
$150.00
$89.99
You Save:

$60.01 USD
Product Description
📏 Sizing

🎁 Returns

💛 Warranty

👠 Materials
Description
 COMFY FIT & FEEL IS GUARANTEED!
Shoes are True to size or return within 30 days no questions asked.
⭐️ ⭐️ ⭐️ ⭐️ ⭐️

"

They felt great from the first moment I wore them! I'm impressed with the quality, fit and comfort. Usually I have to wear my dance shoes around the house before they're comfortable dancing, but these fit and felt great from the beginning." - Kristel, GA
FITTING GUIDELINES
✅ Please order your dance shoes the same size as your everyday shoe size.
✅ The only exception to the above guide is if you have a wide fit. In this case, choose a half size larger than your everyday shoe size
✅ Please note that our dance shoes have a standard width (not narrow or wide)
Our sizing recommendations are suggestions for what size may fit best. As no two feet are the same, the final decision on the shoe size rests with the customer.
We are always happy to assist with sizing queries. So please email if you have questions about shoe sizes.
---
HOW TO MEASURE YOUR FOOT

 1. Place your foot on a sheet of paper. Mark a line over your longest toe and the heel of your foot.

TIP: It helps to hold the pencil straight around your foot

2. Use a ruler to measure the foot length distanced marked 
Reference our Size Chart against your measurements to know your size.
---
You have up to 30 days from your ship date to try on your dance shoes. If for any reason you don't like the fitting of your shoes. Return them for an exchange or refund. No questions asked. The Fit and feel of our dance shoes are guaranteed.

🎁 Returns
30 DAY RETURN POLICY. GET THE RIGHT FIT!
---
Shoes / Product must be in new unused condition to qualify as a return / exchange! 
✅  Please try your shoes on a clean surface.
✅  The definition of new, unaltered and unused condition is: without showing signs of wear or damage in any way.
✅  Shoes must not have, foot imprints, discoloring or dirt on the insole.
✅  Dirty outsoles are also unacceptable.
✅  Include your shoe bag with your return!
---
EXCHANGES
✅  You may return an item(s) for an exchange.
✅  Once your return is fully processed, we will issue you store credit in the form of a Yami®  E-Gift Card so that you can choose your exchange or use your E-Gift Card on a future purchase.
Yami
®

 

E-Gift Cards never expire, and are redeemable right away!
---
Refunds and exchanges are all contingent upon inspection of shoes/ product(s).



💛 Warranty
180 DAY PRODUCT GUARANTEE
✅ Damaged Parts:
If a shoelace, buckle or zipper pull is damaged. We will replace the damaged part. Making the shoe whole again.
✅ 

Minor Damage:
Suede peeling, missing crystal, an imperfection in appearance are all considered minor damage.
✅ 

Damaged Shoe:
 Heel and shoe strap breakage is considered damaged shoes. We will replace your damaged shoe free of charge. 
---
👠 Materials
Shoe Materials / Design
Open Toe - For full flexibility
Adjustable Lace-Up - Great for all foot Widths.
All-Purpose Street Soles (VEGAN) - For dancing outdoor or indoors. Works on most surfaces.
Zipper Back

 - 

for Easy Fitting
PU Synthetic Leather

 

(VEGAN)
Man-Made lining (VEGAN)
Hypoallergenic Micro-Fiber Inner Sole - Reduces odor 
A Revolution in Design, Function & Comfort

A revolution in design, function, and comfort. Yami Dance Shoes Cushioned insoles are the ONLY product in the Dance Shoe market created to PREVENT high heel foot pain while dancing.
The

 

Strategically Placed Cushion

 

under the forefoot (Balls Of Feet) ever-so-slightly adjusts the pitch and position of the foot in high heels to shift weight off the forefoot (Balls Of feet).
This shift in weight

 

prevents high heel pain:

Stops feet from slipping forward in the shoe
Improves ankle stability
Straightens posture
Significantly reduces strain on the knees, hips, legs, and back you feel while dancing.
We get it. You're frustrated.

Whether your a newbie, novice, social or pro dancer, You've tried every other Dance Shoe Brands out there that promises cushioned comfortable dance shoes.
And nothing has worked.
That's because they are not designed to relieve pressure off the Forefoot / Balls of feet as needed.
Yami Dance Shoes is the only Dance Shoe Brand with Strategically built-in cushions under the forefoot /balls of your feet.
 No pain, slipping and fussing with dance shoes and insoles that simply don't work! Or live up to the promise of Comfy Dance Shoes!
FEEL THE YAMI DIFFERENCE
Yami Dance Shoes Built-In Cushions ever-so-slightly shifts weight off the forefoot/ balls of your feet, which results in ...
✅ Significantly less forefoot pressure and pain
✅ Improved body alignment
✅ Straighter posture
✅ More ankle stability
✅ Natural heel-to-toe gait
✅ Reduced leg and lower back fatigue after long hours of dancing
✅ WEAR YOUR DANCE HEELS 4x LONGER WITHOUT THE FOOT ACHES
Don't Sacrifice Fashion for Comfort, Have Both! Longer hours of dancing in your favorite dance heels without feeling or thinking about your feet. Except for how cute your shoes look.
Simply enjoying the long hours of dancing to your favorite song. 
You Deserve a Comfy Pair!
Customer Reviews
Write a Review
Ask a Question
Filter Reviews:
size
style
blisters
booties
quality
laces
street soles
experience
versatility
details
12/27/2021
Pat J.

United States
I recommend this product
I'm in Love
I am hard to fit and these are the most comfortable & supportive shoes I've ever owned. Never thought I'd find heels that would work for me.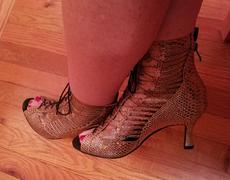 01/11/2022
Yami Dance Shoes
Hello Pat, YES!! They look so good on your feet. Thanks for leaving a review. The full lace up shoes are great. you can adjust the width and tightness of the shoe. Making them a bit more comfortable!! And with the new street soles you can wear them everywhere! Yami
12/09/2021
Arti R.

United States
I recommend this product
Celia **** street sole dance bootie
Excellent construction! Brilliant design! I ordered these because the lace up design is extra suitable for adjusting the fit and it worked. I wish I had ordered regular dance soles though as the street sole is tougher and less flexible so not suitable for serious dancing as such. They are shiny and have gold specks on them- very pretty for parties. I have used them for easy dance nights since they are too pretty and very comfortable to even consider returning. I might order more with dance soles, only problem is that a lot of times my size is not available in the many designs so I have to order whenever I see one is. These are the most comfortable shoes- dance or otherwise than I have ever had!
01/11/2022
Yami Dance Shoes
Arti, Yess I am so glad you like the shoes. These are definitely more for Social Dancing. But we also have a latin style dance shoe thats made for taking classes performing, etc. Due to the current Covid crisis. Our supply chain is affected. So when we sell out its taking a bit longer to restock the shoes. Please sign up to our VIP email list. So when shoes are back in stock you can be notified. Visit our homepage www.yamishoes.com - In the footer you will find the sign up area. Yami
11/20/2021
Emy D.

United States
I recommend this product
Verified buyer; Lover of Bling
The picture in the site is nothing close to how beautiful these shoes actually are. They shine! Golden bling! Signature comfort like all Yami Shoes. No foot pain even after hours of dancing. No slipping. I'm a size 6.5 but I always purchase a size 7 because they seem to run a bit small. I love love love this Brand shoe.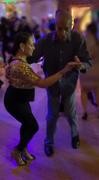 10/28/2021
Heather N.

United States
02/13/2021
Karin R.

United States
Great shoes!
I've been using the Celia for dancing outside during social distancing. I put suede on the bottom, which helps me to spin more smoothly on concrete, but the street sole is holding up well to dancing hours on the hard floor. The additional padding has also been helpful; though I also use a silicone pad when we're on concrete. I've been using my Celias since November, and I won't use any other shoe! Also, I bought two pairs, one set is larger to accommodate wools socks for those extra cold nights. Both have been great!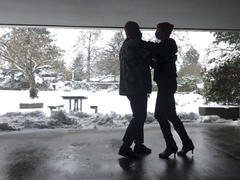 10/10/2020
Colby S.

United States
A Forever Fan
The Celia Silver street soles are my second pair of Celia's. My first pair was Celia Black, in a size 9. After dancing in my booties for a few months, I started getting severe blisters on my toes (they look like they've been to battle and lost the war). I tightened the laces, loosened the laces and eventually put mole skin on the inside because dancing slowly became a painful and miserable experience. Even with a half size too small, I could last 2.5 hours of non-stop social dancing (salsa, bachata, cumbia, merengue) before praying for regueton so I could sit down without FOMO (fear of missing out...I can't sit when my jams are playing lol). That alone speaks to the quality of Yami Dance Shoes. I was worried about getting the Celia style again because of my blisters, but I'm hopeful the bigger size will solve that issue. My feet are narrow with long toes so I recommend ordering a half size up from your street shoe. The Celia style is my favorite due to its versatility. Dress up or dress down, you are still turning heads. I love a lace-up shoe and this one is gorgeous. Celia Silver is the perfect shoe to elevate your fit with a lotta razzle dazzle. Shining from my feet, yes please! Let's also talk about the Yami sling bag I was instantly excited when I opened the box and saw my yellow on black bag. A pleasant surprise to see the change-up from white on black. The details are appreciated Yamilka and Ruben. Well done. I'll be ordering again soon!
04/28/2020
Colby S.

United States
Holy Yami !
The Celia Black Yami street soles are my first ever pair of dance heels and I am so very glad I made the investment for my feet, ankles, and knees. I'm the woman you see dancing in kicks because heels are uncomfortable and don't give me the support needed to really do my thing on the dance floor. Although I have not had the opportunity to put dancing all night miles on my Yami's yet, I have danced plenty around the house and my feet are singing praises for the padded soles! I have very narrow feet and skinny ankles, so after adjusting, the laces are long enough to wrap around my ankle twice, the ankle space gives full range of motion and my toes have the perfect amount of room that I feel secure but not squeezed. The true test is how my feet will feel after 5 hours of social dancing. I highly recommend these beauties to my fellow salseros y bachateros.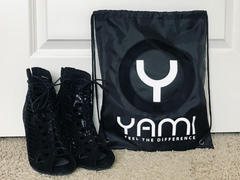 04/28/2020
Yami Dance Shoes
Yay Colby, I hope to see you on the dance floor in your booties!! Thank you for taking the time to help our dance community make informed decisions.. Yami
12/11/2021
Nicole K.

United States
I recommend this product
Comfortable and Stable
Love my new addition of dance shoes! First of all....super cute. I tend to wear flats and was a bit nervous with the laces and 3 inch heel, but was proven wrong! They are comfortable and I feel stable/balanced when dancing. Glad I made the purchase!
01/11/2022
Yami Dance Shoes
Nicole, So glad you found the shoes to be comfy. Comfort starts with the cushions. But a steady , sturdy heel is the key! Share pics if you have any! Yami
11/18/2021
Anonymous

United States
I recommend this product
Great!
Shoes were better than I expected. Prettier, and comfortable. Love my new shoes!
01/11/2022
Yami Dance Shoes
These are super cute! So glad you liked them. Yami
07/08/2021
Michelle P.

United States
I recommend this product
Bad costumer service
I bought a pair of shoes that fit me small and contacted them to issue a return, they took 5 days to get back after I sent two more emails. Then they told me to keep an eye for another email from them for resolving of my issue, it's been 7 days and I already sent two emails. I just hope that I don't miss the window to be able to return shoes that don't fit.
07/15/2021
Yami Dance Shoes
Hello Michelle, My apologies for our delay. Do not worry about passing the time allowed to return the shoes. We will honor all returns as long as the shoes have not been worn. Please visit our return center here at www.yamishoes.com/a/returns to process your return. Thanks, Yami Team
06/16/2021
Felicita D.

United States
I recommend this product
Gorgoes, patterned, soft suede sole.
These are sooooo comfortable. I am a 6.5 and sized up to a size 7. I feel like I could have even gotten a 7.5 for more room. The size 7 fit exactly. The cushion factor in these brand shoes is definitly a game changer. I'm going to purchase all of the colors in this style.
06/17/2021
Yami Dance Shoes
So glad you liked your boots. The street soles booties are one of my personal favorites. Be on the lookout. We will be launching new colors very soon! Yami