CElIA SILVER
$120.00
$89.99
You Save:

$30.01 USD

(25.01%)
CElIA SILVER
$120.00
$89.99
You Save:

$30.01 USD

(25.01%)
Product Description
Product Description

30 Day Return/Exchanges

180 Day Guarantee

Fitting Guidlines

Pre-Orders
Description
  Vegan - Adjustable Lace-Up - Open Toe - All Surface Street Sole Dance Bootie - Social Dance Shoe - 3in Flared, 3.5in, and 4in Stiletto 
Fitting
True to Size (Adjustable widths work great for both Narrow and Wide feet)
Unless otherwise stated in the description of the product, the width is standard (not narrow or wide). If you have a wide fit, you may want to consider ordering your shoes a half size up.
Shoe Materials / Design
Open Toe
Adjustable Lace-Up. Great for all foot Widths.
All-Purpose Street Soles (VEGAN)
Zipper Back

 

for Easy Fitting
PU Synthetic Leather

 

(VEGAN)
Man-Made lining (VEGAN)
Hypoallergenic Micro-Fiber Inner Sole (VEGAN)
30 Day Return/Exchanges
Hassle Free Returns
What items are returnable?
Items not used within 30 days of delivery date.
Items must be in new unused condition. Without showing signs of wear or damage in any way.
Must not have, foot imprints, discoloring or dirt on the insole.
Dirty outsoles are also unacceptable.
Please try your shoes on a clean surface.
---
Exchanges
You may return an item(s) for an exchange.
Once your return is processed, we will issue you store credit in the form of a Yami™ E-Gift Card. That you can choose your exchange or use on a future buy.
Yami™ E-Gift Cards never expire, and are redeemable right away!
---
Wrong item or Size Delivered
If we shipped you an incorrect iem. We will take full responsibility.
Please contact us within 3 days of delivery through our return center.
Please submit a picture for approval.
Once your return is processed. We will issue you store credit in the form of a Yami™ E-Gift Card for use on your exchange or future purchase.
E-Gift Cards never expire, and are redeemable right away!
---
Defective Goods
Defective goods are items that have a defect before wear.
Please contact us within 3 business days and submit a photo of the defective area for approval.
Use our return center to start the return.
Once your return is processed, we will issue you store credit in the form of a Yami™ E-Gift Card. For use on a exchange or a new purchase.
E-Gift Cards never expire, and are redeemable right away!
Please include your shoe bag with your return!
Yami™ Shoes does not provide pre-paid return labels. You will be responsible for covering the shipping costs for returns.
Depending on the shipping method and carrier you select. Your return package may take several days to reach us. Keep your proof of postage and ship your return along with a tracking number. As we are not liable for return packages that are lost or stolen in-transit.
Without proof of receipt, and delivery. Yami™ Dance Shoes will not issue store credit for your returns.
Once your return is processed, we will issue you store credit in the form of a Yami™ E-Gift Card. For use on your exchange or future purchase.
E-Gift Cards never expire, and are redeemable right away!
---
What items are non-refundable?
Pre-Order / Custom Shoe Orders
Custom orders are specially made for you!
Custom orders are orders with specific colors or heel size request. Outside what we carry in stock.
Final Sales
Final sale items are items that are super discounted where the sale is final.
These items are not returnable.
---
Are there any charges for return?
There are no charges for returns by Yami™ Dance Shoes
Original shipping charges are non-refundable
You are responsible for return shipping charges.
Please note, There are no shipping charges for items mistakenly shipped or defective goods. Yami™ Dance Shoes takes full responsibility.
All other shipping charges for returns are the responsibility of the customer.
---
Returned to Sender & Refused Packages
This can happen if:

an address is invalid or missing information
the carrier is unable to deliver your package
the order is refused by the customer at the time of delivery.
Returned to sender or refused packages will be restocked. You will be issued store credit in the form of an E-Gift Card minus the initial shipping charge.
We are unable to replace or reship in these instances. As all returned shipments are processed by our Returns Center.
Instead, please use the E-Gift Card to place a new order using the correct address.
Keep in mind that we do not guarantee your items will be in-stock at the time of your reorder.




---



Refunds and exchanges are all contingent upon inspection of item(s).
How do I start a return?
Visit our RETURN CENTER to start the return process
Enter your order number and email address.
Click Start a Return.
Please Note, if you did not enter your email during checkout you will receive an error message.
Please contact us with a valid email address that we can add to your account.
Once we add your email you can continue with the return process.
Follow the screen instructions and select the items you want to return
You will receive a confirmation email with shipping guidelines
180 Day Guarantee
100% NO-RISK GUARANTEE
We take pride in developing and manufacturing quality products.
Yami Dance Shoe Guarantee covers the quality of our workmanship and/or materials as long as the shoes are used under normal conditions, for the purpose and on surfaces intended.
You are covered for up to
6 months
of the sale date.
---
GUARANTEE COVERS
DAMAGED PARTS
If a shoelace, buckle or zipper pull is damaged. We will replace the damaged part. Making the shoe whole again.


MINOR DAMAGE

• Suede peeling, missing crystal, an imperfection in appearance are all considered minor damage.
If you would like to keep and fix your shoe, we would be happy to give 50% off new shoe of equal value.
Your discount can be used for your next purchase.


DAMAGE SHOE

• Heel and shoe strap breakage is considered damaged shoes. We will replace your damaged shoe free of charge.

• There is no need to return your damaged shoe to us unless our team requests it.

• Please contact us at info@yamishoes.com via email.


INCLUDE THE FOLLOWING IN YOUR EMAIL

1. HEADLINE your email "Damaged Shoe" so that we can rank your request

2. PHOTO of the damaged shoe. Include close-ups of the damaged area.

3. Order Number. Please include your order number in the email. If you don't have your order number, please create or log into our webpage here so that you can have access to your order history. 

4. SHIPPING ADDRESSto send the new item.
---
GUARANTEE DOES NOT COVER
Wear and tear is a natural occurrence and does not qualify as defective and is not covered in the Guarantee


• The Guarantee does not cover excessive or unusual wear of your dance shoes. 

• Cuts, burns, scratches, wear, and tear on the material or mistreatment of the shoe. Shoes that are damaged by surfaces that are NOT smooth

• For Example: Dancing on rugs, cement, concrete, rock, sand, and gravel.Surface damage is determined by the type of outer sole purchased. Unsatisfied with the fitting and feel
• We make every attempt to fit shoes properly and find the right type of shoes for each individual. However, the customer must make the final determination on how a shoe fits and feels.

• We have a 30-day return guarantee that covers sizing and fitting concerns. You can review our Policy Here


---
It is our goal that you are 100% Satisfied with our products.
Fitting Guidlines
Please order your dance shoes a half size smaller than your everyday shoe size.
For Example: If you wear a size 7 every day, please order a size 6.5 dance shoe.
The reason for the smaller size is that Dance Shoes should fit you snug to avoid Injuries.
Dance shoe materials will stretch over time. A loose dance shoe can cause injuries.
You want very little space between your toes and the front edge of the shoes.
This helps with pointing and to avoid tripping.
The only exception to the above guide is if you have a wide fit.
In this case, choose the same size as your everyday shoe size.
Please note that our dance shoes have a standard width (not narrow or wide).
---
How To Measure Your Foot:
STEP 1:
Place your foot on a sheet of paper.
Mark a line over your longest toe and the heel of your foot.
Tip. It helps to hold the pencil straight.
---
Step 2:
Use a ruler to measure the foot length distance marked.
Check it against our size chart.
Please contact us if you have any further sizing questions.
Our friendly customer service can help you with any fitting concerns.
Pre-Orders
Out of Stock Preorder/ Shoe Reservations:
If we are currently sold out in your shoe / heel size dont worry. Its that this particular style is very popular.
You can preorder/reserve your dance heels before a new batch comes in.
Preorders/ reserved heels can take up to 4 weeks to ship.
You will receive a shipping notification when your heels are ready.
Don't wait, Reserve your dance heel today!
---
Custom Preorder:
Want this shoe with a different heel size?
Interested in this Yami Dance shoe design but you prefer a different heel type? Add the details of your prefered heel size and type during checkout.
There will be a notes section available for you to add the details of your specific request.
We will follow up via email to confirm your order details.
Please note that is a custom order. Custom orders ship within 3-5 weeks.
---
Want this shoe in a Custom Color?
For a custom color please in box me. We can discuss the possibilities and whats available.
Please email me at info@yamishoes.com
Customer Reviews
Write a Review
Ask a Question
Filter Reviews:
FOMO
Celia Black
blisters
inside
booties
quality
laces
street soles
experience
versatility
10/10/2020
Colby S.
United States
A Forever Fan
The Celia Silver street soles are my second pair of Celia's. My first pair was Celia Black, in a size 9. After dancing in my booties for a few months, I started getting severe blisters on my toes (they look like they've been to battle and lost the war). I tightened the laces, loosened the laces and eventually put mole skin on the inside because dancing slowly became a painful and miserable experience. Even with a half size too small, I could last 2.5 hours of non-stop social dancing (salsa, bachata, cumbia, merengue) before praying for regueton so I could sit down without FOMO (fear of missing out...I can't sit when my jams are playing lol). That alone speaks to the quality of Yami Dance Shoes. I was worried about getting the Celia style again because of my blisters, but I'm hopeful the bigger size will solve that issue. My feet are narrow with long toes so I recommend ordering a half size up from your street shoe. The Celia style is my favorite due to its versatility. Dress up or dress down, you are still turning heads. I love a lace-up shoe and this one is gorgeous. Celia Silver is the perfect shoe to elevate your fit with a lotta razzle dazzle. Shining from my feet, yes please! Let's also talk about the Yami sling bag I was instantly excited when I opened the box and saw my yellow on black bag. A pleasant surprise to see the change-up from white on black. The details are appreciated Yamilka and Ruben. Well done. I'll be ordering again soon!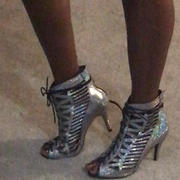 07/16/2020
Masbelle
United States
Super comfortable
The shoes took over a month to be shipped because it was a preorder but it was worth the wait. Very nice comfortable on my feet and my knees. I can't wait to take them out to dance all night
07/27/2020
Yami Dance Shoes
Yay, I'm so glad you like the shoes. Celia Boots are one of my personal favorites. Don't forget to share a pic of yourself in the boots. Would love to see it! Yami
04/29/2020
Anonymous
United States
Versatile
Most versatile shoes I ever ha, they are so comfortable and stylish.
Love it!
Very comfy and looks great with any outfit!
04/28/2020
Colby S.
United States
Holy Yami !
The Celia Black Yami street soles are my first ever pair of dance heels and I am so very glad I made the investment for my feet, ankles, and knees. I'm the woman you see dancing in kicks because heels are uncomfortable and don't give me the support needed to really do my thing on the dance floor. Although I have not had the opportunity to put dancing all night miles on my Yami's yet, I have danced plenty around the house and my feet are singing praises for the padded soles! I have very narrow feet and skinny ankles, so after adjusting, the laces are long enough to wrap around my ankle twice, the ankle space gives full range of motion and my toes have the perfect amount of room that I feel secure but not squeezed. The true test is how my feet will feel after 5 hours of social dancing. I highly recommend these beauties to my fellow salseros y bachateros.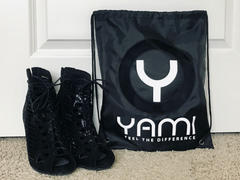 04/28/2020
Yami Dance Shoes
Yay Colby, I hope to see you on the dance floor in your booties!! Thank you for taking the time to help our dance community make informed decisions.. Yami