ProductContent
Puchi Red- Peep Toe Full Lace-Up Street Sole Dance Bootie
$129.99
You Save:

$-129.99

(100%)
Puchi Red- Peep Toe Full Lace-Up Street Sole Dance Bootie
$129.99
You Save:

$-129.99

(100%)
Product Description
📏 Fitting Guide
 COMFY FIT & FEEL IS GUARANTEED!
Shoes are True to size or return within 30 days no questions asked.
⭐️ ⭐️ ⭐️ ⭐️ ⭐️

"

They felt great from the first moment I wore them! I'm impressed with the quality, fit and comfort. Usually I have to wear my dance shoes around the house before they're comfortable dancing, but these fit and felt great from the beginning."Kristel, GA
FITTING GUIDELINES

✅ Please order your dance shoes the same size as your everyday shoe size.
✅ The only exception to the above guide is if you have a wide fit. In this case, choose a half size larger than your everyday shoe size
✅ Please note that our dance shoes have a standard width (not narrow or wide)
Our sizing recommendations are suggestions for what size may fit best. As no two feet are the same, the final decision on the shoe size rests with the customer.
We are always happy to assist with sizing queries. So please email if you have questions about shoe sizes.
---
HOW TO MEASURE YOUR FOOT

 1. Place your foot on a sheet of paper. Mark a line over your longest toe and the heel of your foot.

TIP: It helps to hold the pencil straight around your foot

2. Use a ruler to measure the foot length distanced marked 
Reference our Size Chart against your measurements to know your size.
---
You have up to 30 days from your ship date to try on your dance shoes. If for any reason you don't like the fitting of your shoes. Return them for an exchange or refund. No questions asked. The Fit and feel of our dance shoes are guaranteed.

Customer Reviews
Filter Reviews:
dance shoes
shoes
heel
quality
students
bed pads
owner
everyone
class
company
Svetlana

United States
I recommend this product
04/17/2022
Love them!
Great shoes, as always. It's probably my 5th pair of Yamis and they never disappoint. Beautiful design, very smooth feel, the sole is slippery enough on the wooden floor, but not too much as to make you feel unstable. Party tested and approved. I prefer lace ups because my foot is on the wider side and they are a perfect solution.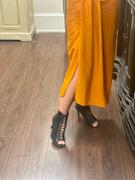 karla i.

United States
I recommend this product
04/14/2022
Beautiful red dance shoes
Love them ! Nice bright red color . They hold your feet in well . Makes you feel secure when you dance . Very comfortable once you brake them in . Love this company. Great customer service and fast delivery . Met the owner at a salsa festival and he is great ! Support this business and get your dance on with some amazing comfortable beautiful dance shoes . You won't regret it .
Ruby

United States
I recommend this product
04/11/2022
Thoroughly surprised & satisfied!
Yoooooo! Usually my feet are dead after an hour in my other brand 3 inch Latin heels, but my feet feel perfectly comfortable in these 3.5 inch Yami heels after several hours of dancing! Plus, they have a street sole so I'm not worried about changing in and out of them or wet floors ruining my heels if they had a suede sole. These Yami heels have extra cushion in the toe box area as well as the heel so the height doesn't actually feel like 3.5 inches (more like 2.5-3. Seriously!). It's still a little stiff so I can't point my toes, but I'm not worried about that when social dancing. I've gotten multiple compliments on my new heels already and I've only worn them twice. I highly recommend giving this brand a try! I'm certainly satisfied. I did notice they're just a little bit cheaper when you buy in person so if you want to save $5 + shipping then try to find their vendor table at the next dance festival you go to. I'll definitely be buying another pair at the next festival I go to!